Event Supporters
Associations

THE HOMEOPATHIC MEDICAL ASSOCIATION – established in 1985, is a non-profit making recognised body of qualified professional homeopaths. Our members have passed a qualifying examination at an approved college, or can otherwise prove their eligibility to the satisfaction of the Council. To ensure that the public may seek treatment with absolute confidence, members are bound by the HMA's strict Code of Ethics and Practice, and are obliged to carry Professional Indemnity Insurance.
For further information please contact us at 7 Darnley Road, Gravesend, Kent. DA11 0RU.
www.the-hma.org Email : info@the-hma.org
The British Association for Applied Nutrition & Nutritional Therapy, established in 1997, is the professional association for nutritional therapists. Nutritional Therapy practitioners work one-to-one with the public in an approach that is centred on their specific health and/or dietary needs. This represents a nutritional paradigm different from that which underpins current dietetic and public health nutrition. The approach is patient centred, considers biochemical individuality, the dynamic balance between internal and external influences, assumes health to be a positive state not merely the absence of disease and promotes the maintenance of genomic stability and mitochondrial capacity in order to decrease morbidity and increase a healthy lifespan. BANT practitioners provide personalised nutrition plans to support a return to better health. BANT membership is the seal of excellence for nutrition health practitioners. Join us!
ARCH was founded in 1987 and it has been the lead body for colon hydrotherapy since its inception. It represents the largest number of colon hydrotherapists in the UK. Individual ARCH members are regulated by an independent body, The Complementary & Natural Healthcare Council (CNHC) set up in 2009, with Government backing, and which protects the public by setting standards for registration, based on standards for education, training and professional conduct. The aim of ARCH is to maintain and strengthen professional standards in colon hydrotherapy in the UK and Europe, thereby achieving best practice by therapists and assurance of safety for the public. Visit the website for more information: www.colonic-association.org
The Integrative Health Trust is a charity working to harness and promote the power of Integrative Medicine (IM) to improve the health, wellbeing and personal potential of people living in the UK. This compassionate, proactive approach to healthcare combines orthodox, complementary, psychological and self-help approaches in the treatment and prevention of illness. From our base in Bath, our dedicated team is working to promote IM on a national scale through education and awareness. Join as a member and support our work or sign up to receive our free newsletter to keep in touch with our campaign at www.integrativehealthtrust.org
BISA – the British International Spa Association – is an association set up by professionals in order to establish minimum standards and quality of service to the Spa Industry. It acts as an educational platform for the industry, endorsing spa therapist qualifications gained at BISA approved schools. BISA is also involved in the recruitment of staff for the emerging Spa Industry. BISA is aimed at individuals who are, or want to become, fully-trained Spa Therapists, spa outlets who wish to operate within the recognised wavebands of the Association, and schools who wish to train Spa Therapists to recognised standards.
CNHC is the UK regulator for complementary healthcare practitioners. Its key function is to enhance public protection by setting standards for registration with CNHC. Practitioners on the CNHC Register are able to display the CNHC quality mark (right) in their practice and in publicity materials such as leaflets and websites. This quality mark is becoming the general public's guide to identifying best practice in complementary healthcare provision. In November 2009 the Department of Health stated: "CNHC is the only voluntary regulatory body for complementary healthcare which has official government backing. No other organisation has the same exacting criteria or focus on safety and quality." Meet CNHC representatives at this year's camexpo.
The CThA is the leading organisation representing over 9,000 Complementary Therapists in the UK and Ireland. Members receive a quarterly journal/newsletter, insurance, a listing on EmbodyForYou.com, Embody marketing materials, and access to Local Member Groups and Online Discussion Forums. The CThA also looks after your professional interests in regulation and national representation, professional development and the development and acceptance of therapies with other organisations.
The Nutri Centre is located on the lower ground floor of the world renowned Hale Clinic in London. Opened by Prince Charles in 1988, the clinic has become Europe's leading Centre for Complementary Medicine. Situated in the heart of London, it houses not only some of the UK's most eminent practitioners, but also Europe's leading natural medicines dispensary (at the last count it had 22,414 different products!) and an extensive Library and Bookshop on Complementary Medicine, thus integrating all the services under one roof.
The Federation of Holistic Therapists is the largest association in the UK, representing over 20,000 professional therapists. Founded in 1962, the FHT is a non-profit making organisation who, by setting industry standards, ensure best practice for therapists and their clients. No other UK association has influenced the acceptance of Complementary Therapies in the UK more than the FHT.
The Aromatherapy Trade Council (ATC) is the UK trade association for the specialist aromatherapy essential oil industry, promoting the responsible marketing of real aromatherapy products and consumer safety. It offers an independent advice service on the regulatory framework applicable to essential oils and aromatherapy products and a vetting service on permitted wording for advertisements and safe labelling of products. The ATC publishes Guidelines on the Regulation, Labelling, Advertising & Promotion of Aromatherapy Products.
The Complementary Medical Association (CMA) is the world's largest professional membership body for practitioners, students and colleges. It is committed to delivering excellence within the complementary medical field and also has strong links with the conventional field. Its commitment to CPD is exemplary as is their dedication to helping their members build their businesses. Due to its high media profile the CMA is in a unique position to promote complementary medicine and its members to the public and the medical profession, thus the CMA and its members are synonymous with best practice.
The International Therapy Examination Council (ITEC) is the UK's leading awarding body for professional qualifications in Beauty Therapy, Complementary Therapy and Sports Therapy. ITEC qualifications are considered to be the highest available worldwide and provide diploma and certificate holders with the best possible opportunities for employment in their fields. The ITEC has over 500 colleges worldwide, and some 15,000 ITEC qualifications are awarded annually.
The BCMA may not yet be the largest organisation in the CAM world but it is certainly unique in its structure and philosophy. Which is why they have developed a new VSR Council – The British Complementary Therapy Regulatory Council. Why is the BCMA unique? Well, the executive consists ONLY of volunteers who make recommendations to the BCMA Council which, in turn, consists only of member therapy associations and independent schools. They make the final decisions ensuring that whatever the BCMA do is focused totally on the future of CAM, without being compromised by career paths or political bias. Meet BCMA representatives at this year's camexpo.
Balens is a well established, family run business, with over 55 years' experience. They are one of the largest brokers in the UK for Complementary Therapists, Health Professionals, Organisations, Businesses and Charities; and have over 35 staff dedicated to providing help and support to their clients. As the Marketplace continues to grow, Balens do not stand still. As innovators and pioneers in this growing field, Balens are continually evolving new customised facilities to meet the needs of their clients and have recently expanded their range of services even further.
Balens has been active in the field of education for Health Professionals, delivering lectures as part of qualification and CPD courses at various Universities and Colleges over the years, and are therefore very happy to sponsor the workshops at camexpo 2008 to help Health Professionals to further their knowledge and competency. Balens Ltd and H&L Balen & Co are Authorised and Regulated by the Financial Services Authority.
Shiatsu is a traditional hands-on Japanese therapy. A deeply relaxing experience and regular sessions help to prevent the build up of stress. Conditions helped: * Back / joint pain * Neck stiffness * Sports injuries * Stress. The philosophy underlying Shiatsu is energy flows throughout the body in a series of channels. Ki can stop flowing freely. Practitioners use techniques to improve energy flow – gentle pressing, fingers, knees, feet and stretches. The client stays fully clothed. Benefits: * Relaxes mind / body * Restores / balances energy * Eases tension / stiffness * Enhances wellbeing. Our practitioners are: Current Members, insured and abide by our Code of Ethics/Conduct. Shiatsu Society (UK), Eastlands Court, St Peters Road, Rugby, Warwickshire CV21 3QP. Telephone: 0845 130 4560. Email: admin@shiatsusociety.org
The BIAET is a BCMA approved school offering Diploma in The Identification and Treatment of Allergic Disorders. The distance learning course is modular, with two on-site training weekends, organised to allow students to enrol at any time during the year. They will learn a unique system of non-invasive testing and treatment without drugs or diet. On completion of the course, therapist are invited to become Members of the BIAET, the largest register of independent Allergy Therapist in the country, with its The BIAET is a BCMA approved school offering Diploma in The Identification and Treatment of Allergic Disorders. The distance learning course is modular, with two on-site training weekends, organised to allow students to enrol at any time during the year. They will learn a unique system of non-invasive testing and treatment without drugs or diet. On completion of the course, therapist are invited to become Members of the BIAET, the largest register of independent Allergy Therapist in the country, with its associated homeopathic pharmacy and over 25 years experience in providing relief for allergy. associated homeopathic pharmacy and over 25 years experience in providing relief for allergy.
The International Federation of Aromatherapists' mission is to promote: Health and Wellbeing; Ethical Scientific Research into Essential Oils; and Advanced Professional Standards of Education and Training. The IFA is the longest-established governing body for Professional Aromatherapy in the world. Founded in 1985, they have worked hard to maintain their organisation as a charity, as they believe it ensures true integrity and helps them to stay impartial in all our dealings. The IFA is a truly international organisation with training schools and members all over the world. It is a self-governing body supported by its Members and Friends with official Codes of Practice and Ethics, ensuring that standards and quality are sustained. Since its formation, the Federation has been at the forefront of developments within the aromatherapy profession and has pioneered the use of aromatherapy in hospitals, hospices, special care units and general practice. They work hard to set and maintain the highest standards in Aromatherapy worldwide.
The Alliance of Registered Homeopaths (ARH) is a UK professional organisation that supports and promotes a high standard of safe, effective homeopathic practice. They are committed to: Ensuring that quality homeopathy is available to all who wish to use it; Raising public awareness of the potential of homeopathic treatment; Encouraging a high standard of education for homeopaths; Supporting the ongoing professional development of their Members; Encouraging co-operation between their Members and other healthcare professionals, for the benefit of patients; Engaging in research, publishing and other activities that enhance our understanding of homeopathy; and Acting as an information base for the general public. To find a qualified, registered, ARH homeopath in your area, use their online "Find a Homeopath" service.
The AAPA was established in 1994 by a small group of therapists who wanted an association that truly represented its members from a professional viewpoint. In the last 14 years, the AAPA has grown from strength to strength as members appreciate the professional support, including low cost CPD opportunities. AAPA members are exempt from London Borough Council Special Treatment Licences and they have an excellent low cost insurance package. The AAPA is certainly an association of which you can be proud to be either a full member or a student member (by training at one of their 19 accredited training providers).
The International Federation of Professional Aromatherapists is the largest professional aromatherapy practitioner organisation in the world and is a strong, respected voice in the field of Complementary and Alternative Medicine (CAM). Its inception in 2002 was the result of a vision by the UK's major international professional aromatherapy organisations to become the best it could. The IFPA is a registered charity with clear, defined aims and objectives and is supported through its membership in the UK and Worldwide. The IFPA believes wholeheartedly in the principles and philosophies of Holistic health, health care and the promotion of well-being for the individual.
The Society of Auricular Acupuncturists is a recognised body of qualified professional Auricular Acupuncturists. The Society has been well established for over 30 years to promote and develop Auricular Acupuncture as an effective Microsystem of Acupuncture. The popularity and continued growth of the courses led to the development of The College of Auricular Acupuncture in 2002, the dedicated training provider for The Society of Auricular Acupuncturists. The College is dedicated to continual improvement in education and standards of practice, as such our members are eligible to register with the CNHC. For further information click www.auricularacupuncturecollege.com
The Institute for Complementary and Natural Medicine (ICNM) is a UK-registered charity that was formed in 2008 from the merger of two charities, the Institute for Complementary Medicine (ICM) and the Nature Cure Clinic (NCC). The ICM was formed in 1982 to provide the public with information on all aspects of the safe and best practice of Complementary Medicine through its practitioners, courses and research.The NCC was formed in 1928 and took a pioneering approach to natural medicine by offering free treatments to those who could not otherwise have afforded them. The ICNM aims to build a bridge between complementary and natural medicine and allopathic healthcare. It also administers the British Register of Complementary Practitioners (BRCP).
The College of Naturopathic Medicine (CNM) offers diploma courses for students wishing to train for a new career in a natural therapy, including in Naturopathic Nutrition, Herbal Medicine, Acupuncture, Homeopathy and Naturopathy. Postgraduate courses for existing practitioners are also available, as is an exciting range of short courses in various natural therapies, ranging from Reflexology and Massage, to Pregnancy and Fertility. CNM has colleges across the UK and in Ireland. Regular free-to-attend Open Evenings held at all CNM colleges are an opportunity to find out more about the courses available. Tel: 01342 410 505 or visit www.naturopathy-uk.com.
Publications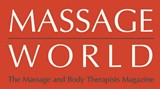 Massage World is a quarterly magazine with a national and international audience of massage practitioners, reflexologists, body workers, students and those with a general interest in complementary therapy. It is also an active supporter of the General Council for Massage Therapy and the recently established Complementary and Natural Healthcare Council. Each magazine issue is full of informative articles keeping readers in touch with their work, their clients and their own health and now you too can have access to this incredible library by visiting our website www.massageworld.co.uk and downloading all our back issues. We have been a supporter of camexpo since its inception so come and visit us at this year's show and take advantage of our special offers.
Holistic Therapist Magazine quarterly publication that offers a balance of business and industry features, with content for the therapists themselves. It caters for the desires and requirements of practicing and studying holistic professionals. Each issue has a specific focus, as well as regular features, including: News & Diary Dates, therapist case studies, competitions, expert columns, product reviews, editor comments, and more. The key content is business focused, and also includes seasonal news and articles specifically for therapists.
HTM encourages business, CPD, and good health. It is a platform for therapists to share their thoughts and opinions and to communicate with others in the holistic industry.
http://www.holistictherapistmagazine.com
Spa Business magazine is the world's leading source of business information for the spa sector. Published quarterly it takes you behind the scenes of some of the most advanced spa operations in the world – from medical and thermal, to resort, day, hotel and destination facilities – and talks to the business people who are driving the industry forward. Spa Business is supported by a website – www.spabusiness.com, a weekly e-zine and a handbook. A digital version of the magazine can be viewed online at spabusiness.com/digital, while a free PDF subscription is available by signing up at www.spabusiness.com/green.
Health Club Management carries the latest news and information about the health and fitness market. Our readers are owners, operators, investors and suppliers of all types of health and fitness facilities in the private, public and trust sectors. Health Club Management is supported by a website – www.healthclubmanagement.co.uk, a weekly e-zine and a handbook. A digital version of the magazine can be viewed online each month, at healthclubmanagement.co.uk/digital, while a free PDF subscription is available by signing up at healthclubmanagement.co.uk/green.
www.healthclubmanagement.co.uk
Holistic Local is a social networking and business directory that unites people who are passionate about holistic, green and natural living. If you have a CAM business then it's free to get listed in their directory and you can also advertise your events, workshops and courses. Or, if you're just interested in living a more natural life why not use Holistic Local to connect with thousands of like-minded people and find out what's happening in your local area.
Positive Health PH Online www.positivehealth.com is a uniquely authoritative complementary health internet site, with considerable content derived from the entire archive of 150 issues of Positive Health (PH) print magazine plus online Issues 151-198, published over 18 years. PH Online's intent is to provide reliable information from internationally recognized experts in each field. In addition to thousands of articles, illustrated with original artwork, there are more than 3000 research summaries across many subjects, providing visitors with up-to-date published research about CAM from peer-reviewed scientific journals, as well as tens of thousands of links to organizations and associations within each medical and therapeutic field. The Editor and co-founder, Sandra Goodman PhD is an internationally published scientist and author who set up the Nutrition and Cancer database for the Bristol Cancer Help Centre. Register for the free PH e-newsletter on www.positivehealth.com.
Choice Health & Wellbeing has become one of the most important sources of information. Its coverage on diverse topics make it an 'ideal read' for health conscious consumers and practitioners of all disciplines.
Its engaging and educational approach to health and wellbeing helping clients have a better conversation with the health professional they have approached. Allowing them to make better decisions for their own health and wellbeing and that of their families.
Written by therapists for therapists- the editorial and articles are current, topical and informative. www.choicehealthmag.com
CAM magazine is the first independent, controlled circulation magazine with unrivalled coverage of the latest news, research and political developments in the CAM industry. So if you are a fully trained practitioner, or a student who is at present completing a relevant practitioner's course, you should be subscribing to CAM.
CAMlifestyle is the free to stock magazine for practitioners' clients. It provides practitioners nationally with a great opportunity to provide an even better service to their clients, as well as reinforcing the service they provide.
Functioal Sports Nnutrition (FSN) is the essential read for sports nutritionists nationwide. Focusing on two key areas of sports nutrition; the improvement of performance, and recovery and regeneration from training and competition. If you're looking for a deeper understanding of sports nutrition, or maybe you're a student currently completing a qualification in nutrition and are looking to gain some expert advice and experience in your field, FSN offers a magazine packed full of expert advice.
Online Media Partners
Promote your practice and be found by more people online at Natural Therapy Pages – the most visited alternative health website in the UK. Get more enquiries and boost bookings with your own profile page, inclusion in all major search engines, free graphic support to upload content, a link to your website and a login to see your page statistics. Visit www.ntpages.co.uk to sign up for your FREE 30-day trial.
Health4Media is the leading health news service for the media, and is used by over 1250 journalists. We issue breaking Press Releases from across the health sector to our registered journalists to give health companies unrivalled opportunities for media coverage.
Current clients include Aviva UK Health, Symprove, Viridian, Ultralase, Scholl and Simplyhealth to name but a few.
If you register, you'll also receive Journalist Alerts which are messages from journalists requesting help with their latest research, giving you instant opportunities for media coverage.
If you would like to enjoy a free trial of the service, please send an email to dan.brewer@health4media.com with the word 'YES Camexpo' and your 'Contact Details'.